Who We Are
Join the CCM movement
Campus Club Milledgeville (CCM) is a year-round arts & enrichment center designed to serve the millennial generation ages 7-26
.
CCM serves the Baldwin, Jones, Hancock, Putnam, Washington and Wilkinson counties.
We offer these services FREE to those who need it most.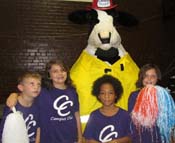 Five-Area Focus Model
Our five-area focus model attracts youth through the medium of the Arts, Entrepreneurialism, Mentorship, Education & Technology.
Artistic Enrichment- Artistic opportunities are our "engagement-point" with Baldwin County's millennial generation, with the hopes of developing long-lasting relationships. We capture their attention by providing training to develop and improve their artistic and creative gifts such as songwriters, dancers, singers, musicians, and photographers, light/sound engineers, graphic artists, videographers, play writers, and web designers. All artistic programs meet and/or exceed the Department of Education's Georgia Performance Standards, in Fine Arts. Our national partners Berklee City Music Network (BCMN) and PITSCO will provide a cutting-edge curriculum to CCM participants, centered around present-day artistic styles.
Entrepreneurial Enrichment- By convincing CCM participants said gifts being developed are marketable; we encourage them to "dream-again". This entrepreneurial spirit will produce the creation of a new business and/or the pursuit of more education towards their dreams.
Mentorship- CCM will provide "social support" for holistic intervention, through the introduction of persons and/or other non-profits. This part of the program allows us to address any social, educational, or financial deficiencies that may hinder the progress of a CCM participant. Our program provides opportunities where social support can be given in a less threatening manner.
Education & Technology- This is the foundation for our program. A "Practical skill building" dynamic is accomplished through the STEM Education model (Science, Technology, Engineering and Math). PITSCO our national partner uses the STEM model via their Synergistic Learning System. This provides us access to high quality learning opportunities to engage, serve and motivate the young minds of Baldwin and middle-Georgia.